I used to work for this company which greatly changed my mindset about career development. With the advent on new technologies and globalization of careers, organizations have become flatter in a sense. The question now is, how do you "catapult" yourself to the top? Everybody wants to improve their career prospects, so what can you do to "stand out" from everyone else?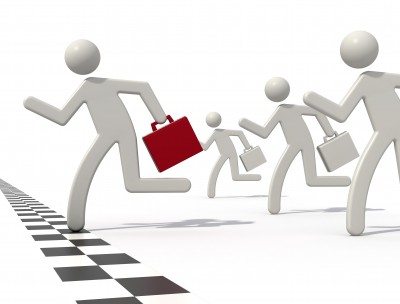 Here are some tips which I've learned from experience and from my mentors :)
Find a mentor. It can be your direct manager, or someone you can look up to and who can provide guidance. These are people who can help point out your strengths (and how to further hone them) and you weaknesses (and how to improve upon them). You can even ask mentors to "spread the good word" about you since they're very familiar with how you operate.
Have a "Solutions Delivery" mindset. When I was still working as a project manager for a certain investment bank, I attended this training called "ABCD - Absolutely Customer Driven individuals". One of my key takeaways is that, we shouldn't just be providing service (what is expected), but we should always go the extra mile to provide solutions. Since then, I always tell members of my project team that they can only come to me with an identified risk/problem, if they've already thought of potential mitigations (not that I don't want to help, I just like to empower others and I don't always have the best ideas).
Networking is Key. Ever heard of the saying "it's not just what you know, but who you know as well"? I'm not saying join in the arena of power plays at work, just make sure that you interact with a lot of people, even those outside your department. If opportunities arise, they can even drop your name since they know how good you are. Employee referral is still the best way to get the job you want because of that "trust" factor.
Volunteer! Volunteer! Volunteer! This is perhaps, my favorite thing to do ever since grade school days. I like to raise my hand (LOL). It got worse in Ateneo because we were taught to practice "Magis", to always do more. It's not that you are trying to suck-up or anything, it's just that absorbing more responsibilities makes you more visible. This will help increase your value in the company.
Learn New Skills. My future father in law is a doctor. He regularly attends conferences to acquire new learning or know about other fields and it's definitely helping out with his marketability. We must adapt to the ever changing world where we are in. It doesn't mean you have to spend though. I learned VBA in college by reading the Help button in MS Excel. In 2010, I attended a formal training. A few years after, I volunteered to teach a team of processors so they can re-create tools that I introduced during process migration, Later on I was asked to train supervisors and managers on MS Excel Levels 2 & 3. I saved my former employer a lot of money because I did it for free . I already left but up to now, they're still using the training modules I created (glad to help!)
Last, but definitely not least - Promote yourself. Be proactive - there is no harm in showing initiative. If there are no opportunities, create them. There is always an area where you can help or improve. If there really is no position to move to, at least you will get recognitions for your contributions.
I forgot to mention, promotions are not always vertical. You can move laterally to a role with more opportunities for growth and personal development. Promotions are not just internal either, you can always seek outside, join LinkedIn for starters.